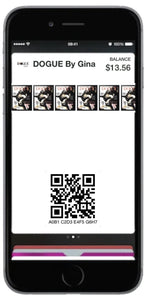 Do you just KNOW that a certain someone would adore a DOGUE By Gina personalized magazine- style pet portrait but can't find a decent photo that matches the DOGUE By Gina Photo Guide standards?
Send them a DOGUE By Gina gift card! You can print out the DOGUE By Gina gift card and send it to them or send it to them via email where they can add it to their Apple Wallet. This way they can pick out their own favorite photo when they're ready.
Pro tip: Suggest to the gift card recipient that they have a little pet photo shoot specifically for this, following the DOGUE By Gina Photo Guide, which ensures that their DOGUE By Gina original turns out great AND it's a fun bonding experience for them with their fur child!

Need help deciding how much to give?
$85 will cover the total cost of a small framed DOGUE By Gina portrait (including shipping!)
$125 will cover the total cost of a large framed DOGUE By Gina portrait (including shipping!)