OBSESSED With Your Fur Baby?!
Then welcome, friend.
Don't be ashamed to be a crazy fur parent. EMBRACE IT!
Turn your dog or cat into a model (in your living room) with a DOGUE By Gina personalized magazine-style pet portrait.
Hang it in your home or office like a proud pawrent should!
WE MADE IT EASY!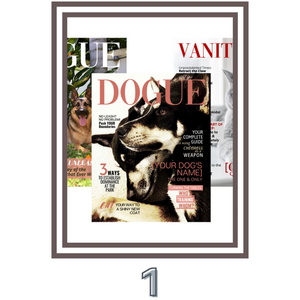 Pick a Template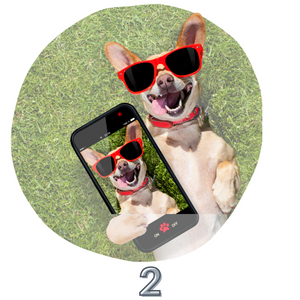 Take a Photo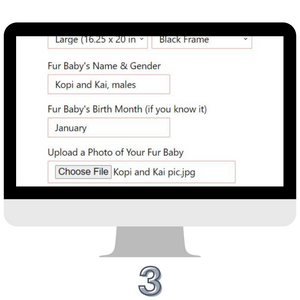 Personalize
After you add to cart, you can upload your photo and customize with pet name, month of birth, add a gift note and more.


The Perfect Gift
Customize your very own DOGUE By Gina Personalized Magazine- Style Pet Portrait or GIFT ONE to a fur pawrent you know.
BEST PART?
Feel great knowing you've made an impactful purchase, as DOGUE By Gina profits with a purpose: to end animal cruelty and homelessness.
Order yours and let the bragging begin!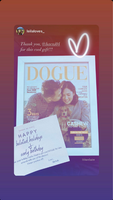 Classic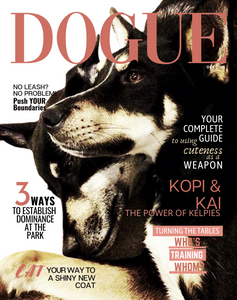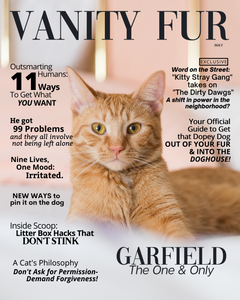 Forever Chasing Squirrels/Mice (Memorial)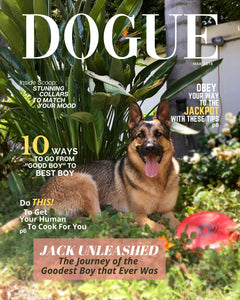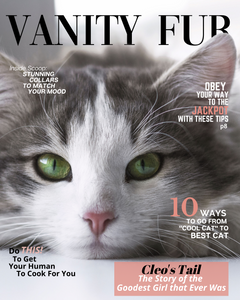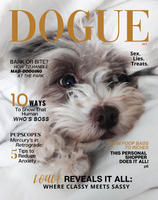 Sassy
Is your babe a bit sassy? Do they sometimes think they're a human? Do YOU?
This one might be the perfect fit!
Includes:
Bark or bite? How to handle mad-dogging at the park
10 ways to show that human who's boss
Pupscopes: Mercury's in Retrograde: 5 tips to reduce anxiety
Sex. Lies. Treats.
From poop bags to riches: this personal shopper does it all!
[Dog name] reveals it all: Where classy meets sassy
I want this one!
DBG Origin story
One day Gina's boys Kopi and Kai were casually lounging around in this ridiculous pose, so naturally, Gina took a picture. It was such a dramatic, model-like pose that she couldn't help but post it on Instagram with the caption "DOGUE." It was cute. But did she stop there? Of course, not!
This crazy dog mom then added captions styled like a magazine cover. THEN she got it framed and hung it in her living room. Yep. She's THAT dog mom.
Visitors admired, she bragged, it was a beautiful thing. When others started making requests for their own custom, faux magazine covers featuring their beloved fur children, she was more than happy to oblige. 
The rest is puppy-loving history!
How to order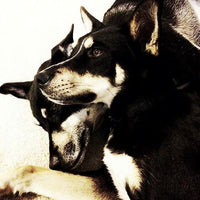 Profit With Purpose
DOGUE By Gina is a Profit With Purpose business. A "Profit With Purpose" business is led by a mission to achieve social, community and environmental benefits through trading and by channeling a portion of their profits toward their mission.

Our mission is to end animal cruelty and homelessness.

We support the ASPCA® and other local organizations that share our mission and values.
Because all businesses should give back to the communities they serve.
Learn More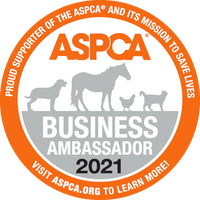 DOGUE By Gina Quality
Customized     Reflection-Free
Ready to Hang    Nail Included 
Light-Weight     Wood Frame
Scratch-Proof     Waterproof
Made in CA, USA    Small Business
Female-Owned     Profit With Purpose
Happy PAWrents
"I placed an order from DOGUE for my sweet little Chihuahua, and it completely exceeded my expectations!

It was so beautifully done and professional! I have it at my office and I receive compliments all the time. Gina's work is amazing!

I highly recommend for anyone with a fur-baby :) "

Alejandra E.
"The perfect gift for any doggie lover! Can't tell you enough about the quality of the frame, photo and how it was delivered.

I got one for a close coworker and best friend and they absolutely loved it, seeing how much they loved their fuzzy fur child in a portrait was the exact facial expression anyone could hope when giving a gift.

Will definitely be ordering more in the near future. Customer service is impeccable as well, I originally entered my order incorrectly and got it corrected almost immediately."

Gabe G.
"Must for dog parents!

If you are a doggie parent like me, it would be a great gift for yourself or another dog parent!

The quality of her artwork is so good.

Looks like a real magazine! In love with this gift!"

Michelle P.
"I received my Dogue cover of our dog Rivers and it is a hit with everyone that sees it.

The quality of the artwork and the article titles truly depict the personality of our 12 pound Kleekai who sees a 100 pound pit bull when he looks in the mirror.

Thank you to Gina and Dogue for this great cover! Looking forward to making it an annual photo shoot for Rivers. ❤️❤️"

Mandy E.
"Just got two faux magazine covers from DOGUE By Gina, I love them!

They are fabulous! I got one for my office and one for my kitchen, they are so beautiful. A great purchase!"

Karen C.
"100% recommend getting an art work from Gina.

They have many designs you can pick from and I love the one we got. The quality is good and the color is as it described.

My canvas arrived sooner than I expected and it's a great Christmas gift."

Luqi K.Z.